Cummins On-Highway Truck Engines
Heavy-duty
Truck Engines
The X15 and X12 lineup is our best yet—giving you the power to perform, deliver, and save.
Have it all with the 2021 X15 and X12 powertrain lineup.
With a focus of uptime, total cost of ownership and ease of operations, the Cummins heavy-duty platforms bring you the best 15-liter and 12-liter engines yet. Starting with the most reliable 15-liter ever produced, to offering EX ratings for enhanced driver performance, the X15 and X12 give you the confidence needed to improve your business without sacrificing anything.
"The real world is the lab that matters"
—Devon Simper, Operations Manager for Savage Trucking

The Cummins X15 answers our fleet partners' needs for reliable and durable performance. Take it from Savage Trucking—the Cummins X15 engines enable their trucks to pull 129,000 pound loads at altitudes 9,000 feet above sea level across the American West.

Watch how Cummins pushes their fleet to maximize performance and efficiency.
Power under weight-sensitive applications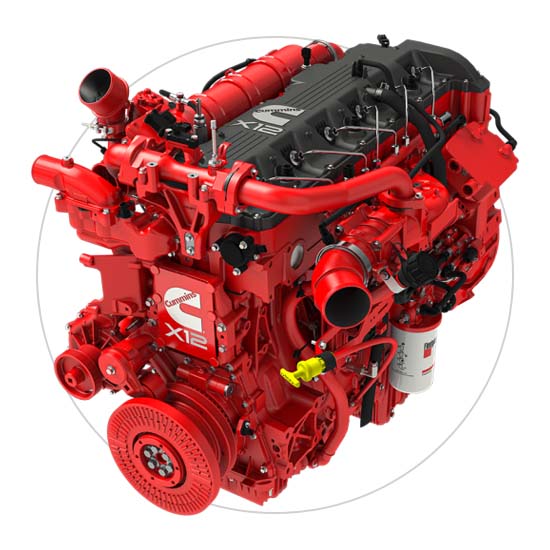 Featured Heavy-duty engine
The X12 is designed to give weight-sensitive applications maximum payload. And at just 2,050 lbs., the X12 is at least 150 lbs. lighter than the lightest competitive 11L engine, yet it still delivers powerful performance from 350-500 HP and 1250-1700 lb-ft Torque. With the response and power of larger displacement engines, the X12 delivers the performance drivers desire while maximizing efficiency for every job.
See it now