Quiet and powerful whole house generators
Cummins is the brand homeowners trust for reliable, durable and powerful home standby power. With a Cummins whole home standby generator or portable home generator, your family won't be left in the dark.
Request a free in-home assessment
Power you can trust
You can feel the security of having a global power leader in your own backyard with Cummins Home Generators. For more than 100 years, Cummins has powered everything from heavy-duty trucks to trains and tractors. We've provided dependable power generation to hospitals, data centers, and stadiums around the world. 
Now you and your family can rely on that same expertise to get the latest in power technology with our generators for homes. Be prepared for bad weather, rolling outages, ice storms and more - and never lose your wi-fi or the contents of your freezer again.
Permanently installed standby generator power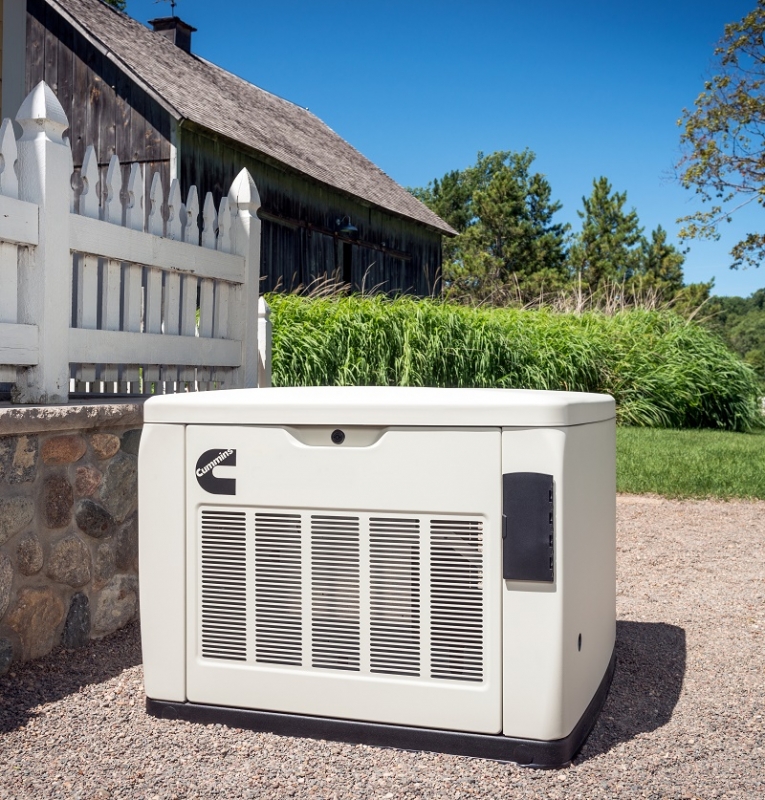 QuietConnect Series Home Generators
When you want a permanently-installed home generator ready to provide power automatically when needed, QuietConnect is the way to go. Cummins QuietConnect generators are engineered, tested and manufactured in the USA and offer the best features for whole house generators:
Quiet operation
Sturdy design
Remote monitoring
Dependability from a world leader in power generation
Watch a video review of the Cummins QuietConnect Home Generator
Find the best whole house generator for you
Cummins offers three types of home generators, in different configurations specific to your needs:
See which option is right for you
What makes a Cummins Home Generator right for you?
Powerful, clean-burning engines run on natural gas or propane for eco-friendly, efficient performance.
Patented sound attenuation technology makes Cummins generators quiet and neighborhood friendly.
Remote monitoring allows you to observe and control your standby generator from anywhere with your mobile device.
Quiet performance and compact design allow Cummins generators to be installed close to your home and blend into almost any landscape.
What size home generator do you need?
Use our home generator size calculator to estimate what type of generator you'll need to ensure reliable backup power for your home.
If you prefer to talk to a friendly, knowledgeable local dealer and get a free, no-obligation home assessment, we invite you to request a home generator consultation.
Request a Free In-home Assessment
How much home generator power do I need?
The size of your home generator depends on how much power you need. The power you need is driven by the essentials you want to power during an outage. You can use our Home Generator Sizing Calculator to determine the size that's right for you.
Home Generator Warranty Coverage
We back up your proven Cummins home generator with a competitive base home generator warranty with fewer exclusions than other brands. Cost-effective extended warranty options allow for full coverage up to 10 years. Please speak to your Cummins Authorized Dealer for more information.
Learn more about home generators
How does a whole house generator work?
Home generators are smaller than the generators used in commercial and industrial applications, but work in the same way, and have the same components. The best way to install a home generator is to connect it to the home's main electrical panel, so it can power all of the home's electrical circuits when needed. This is done with a device known as a transfer switch. The transfer switch prevents electricity from traveling from the generator and into the power lines, so utility workers don't risk getting an electric shock from someone's home generator when they are working on the lines.

Most homes use generators as standby power. In case of an electrical outage, the generator senses the loss of power and automatically kicks in, usually within seconds.

Portable generators are scaled down versions of home generators and feature an engine roughly half the size of a lawnmower engine. Many portable generators weighing 50 pounds or less are available. Their portability makes them well suited for camping trips, cookouts, and construction projects.

Modern portable generators come with standard AC outlets and USB charging ports. Some even have Bluetooth connectivity and an app that allows the user to monitor the status of the generator on a smartphone. Others have built-in batteries which provide power for some time without having to start up the engine. Portable generators must never be used indoors, inside a vehicle or inside a tent because they can release deadly carbon monoxide gas.
How much does it cost to run a whole house generator?
What appliances and necessities can you run with a home standby or portable generator?
Here's a general guide to what you can power with different size generators. (For simplicity, these examples use approximate power needs of appliances. The actual power consumption of your appliances could vary.)


What can a 9,000-watt generator power?
This range of power needs means you can probably use a portable generator instead of a whole house generator. A 9,000-watt portable generator can run one of the following combinations, but not both at the same time:
- Refrigerator, microwave oven, electric stove and dishwasher, OR
- Central AC in smaller homes, washing machine and iron
What will a 13,000-watt generator run?
This size generator is a great entry level generator to power rooms of your choice. A 13,000-watt generator could power all the following basic amenities:
- Central air conditioner
- Electric water heater
- Gas furnace
- Electric garage door
- Refrigerator
- Freezer
- Microwave
What can you run with a 20,000 watt generator?
A 20,000-watt home standby generator is ideal for powering the whole house through an outage, especially if you have a larger home or longer outages. A 20,000-watt generator could power the following essentials in addition to the list above:
- Dishwasher
- Washer
- Dryer (Electric)
- Cooktop (Gas or Electric)