Cummins Generators and Power Systems
Portable Generators
Designed to go wherever you do, Cummins' new advanced portable generators bring together efficiency, power and performance. These three versatile and reliable products are all backed by Cummins' North American support network to ensure that you'll always have power when and where you need it most.
Find Your Fit
Find the right Cummins portable generator for you
Power Your Adventures
Built for Exploration
When your adventures take you off the grid, take us off the grid with you. Our Onan P2500i and Onan P4500i units are lightweight, versatile so you can power your towable camper, RV, and whatever else you need to make your adventures last.
Power your adventures
Power Your World
Built for Durability
When you work hard, we work hard. Our Onan P2500i and Onan P9500df portable generator units are durable and efficient, which help you power your jobsite and tools.
Put Us to Work
Power when you need it most
Built for Reliability
When the unpredictable causes power outages, we keep the lights on. Our Onan P9500df portable generator unit can be used as home emergency backup power in addition to our home and small business standby generator products, providing you power when you need it most.
Explore Home Backup Solutions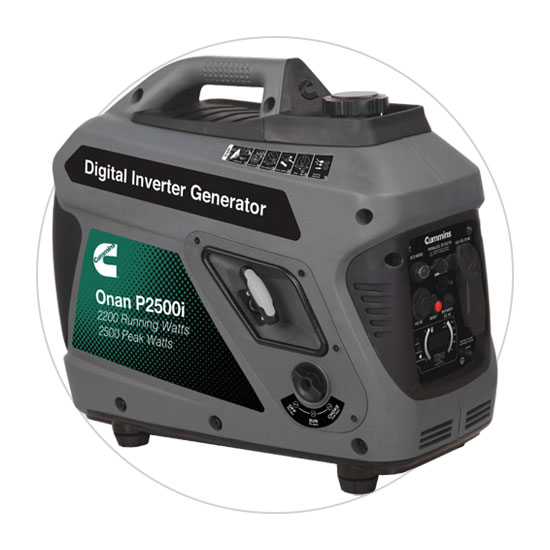 Running watts: 2200
Peak watts: 2500
Noise level: 52 dB
Quiet and durable - Double-insulated
Lightweight - Easy to carry
Keeps you connected - Low THD for clean power - perfect for sensitive electronics
Fuel efficient - 1 gallon fuel tank that runs 10 hours at 25% load
Explore the P2500i
Use the Onan P2500i to power...

Cell phone
6 watts

Blender
500 - 750 watts
Tire warmers
1150 watts (per set)
GREAT FOR
Small appliances
Electronics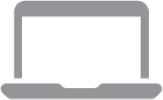 Laptop
200 - 800 watts

Printer
500 watts

Light bulb
7 watts

Television
150 - 300 watts

Coffee maker
500 - 800 watts

Fan
55 - 100 watts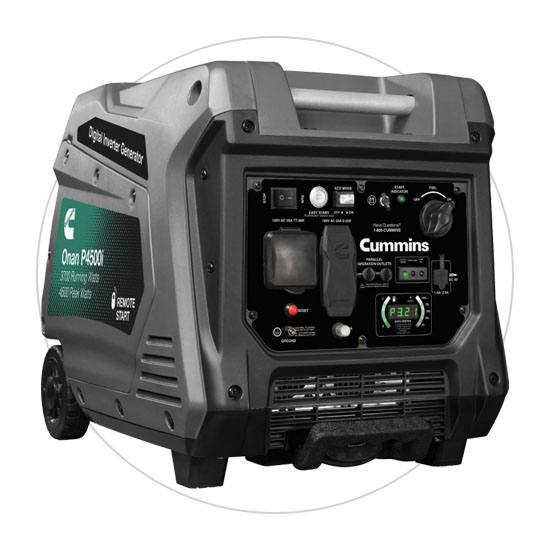 Running watts: 3700
Peak watts: 4500
Noise level: 52 dB
Push button and remote start - Pull cord backup
Quiet and durable - Double-insulated
Fuel efficient - 3.4 gallon fuel tank that runs 18 hours at 25% load
Lightweight - At 98 lbs. and with a telescopic handle and wheels it's lighter and easier to manage
Explore the P4500i
Use the Onan P4500i to power...

Air conditioner
1200 - 1800 watts

Hair dryer
1500 watts

Router
400 - 600 watts
GREAT FOR

Refrigerator
650 watts

Circular saw
500 watts

Wet/dry vac
1440 watts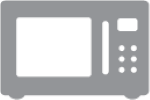 Microwave
1500 watts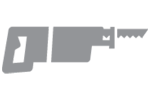 Reciprocating saw
500 watts

Belt sander
1000 watt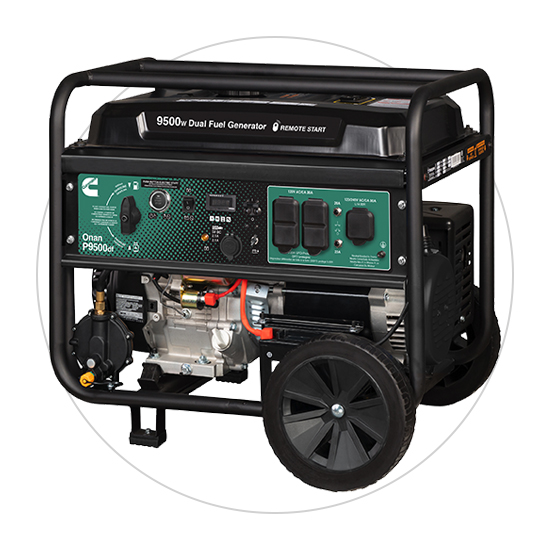 Running watts: 7500 gas | 6750 propane
Peak watts: 9500 gas | 8550 propane
Noise level: 74 dB
Push button and remote start - Pull cord backup
Dual fuel with the flip of a switch - Easily switch from gas to propane with a fuel capacity of 6.6. gallons
Essential data display - VFT Data Center displays volts, frequency and lifetime hours
Explore the P9500df
Use the Onan P9500df to power...

Air conditioner
1200 - 1800 watts

Washing machine
1300 watts
GREAT FOR
Large appliances
Home emergency backup

Air compressor
1200 - 2000 watts

Power washer
1500 watts
Food trucks
General contractor work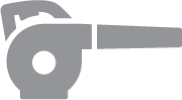 Leaf blower
1000 - 1200 watts

Sump pump
500 - 1200 watts (running)
1000 - 2500 watts (starting)
Where to buy Cummins Onan Portable Generators
Now available on shop.cummins.com
Portable vs. standby - which generator is right for you?
Generator sales "spike around major storms - just before and a few weeks after - which means that too many buyers shop when the power's out."*
Cummins standby home generators are No. 1 for a reason - they deliver ultimate reliability, ensuring peace of mind before the power goes out. Don't wait until the power is out to buy a generator.
*Source: http://www.consumerreports.org/cro/generators/buying-guide.html
Find the right Cummins Generator
Financing through Synchrony
Rely on a brand that is synonymous with power. Cummins is now offering financing options through Synchrony Bank when your portable generator or home standby unit purchase is made with a credit card issued through Synchrony. Financing is only offered through participating dealers. Contact your local dealership to see if they offer financing.
Partner with the experts in power
At Cummins, achieving our strategic objectives depends on putting the customer first and striving to provide real value in everything we do. Currently, Cummins sells portable generators through our RV, commercial mobile, and home and small business power generation dealer networks. If you currently sell power generation products and are interested in carrying our portable generators at your dealership, we'd love to talk about partnership opportunities.
Please use portable generators safely and responsibly according to the manufacturer's safety guidelines and user manual. The images on this page depict portable generators being used in outdoor and well-ventilated settings.